BGCL 2023 Summer Program Registration & Information
Seven Weeks of full day action and excitement, starting June 26th and ending August 18th*.
Opening at 8:30am and closing at 5:30pm.
Each week features 3 field trips and 2 action-packed on-site days!
Registration for the Full Summer beings March 6th, Followed by Individual Week Registration on March 20th.
$250 per week
$1575 for full summer!
Kids who will be entering 6th grade – 9th grade in the fall of 2023 are eligible to join!
Maximum capacity per week is 50 members. Wait lists will be created if necessary.
If your child is attending week 3, click here to fill out the Urban Air Adventure Park waiver.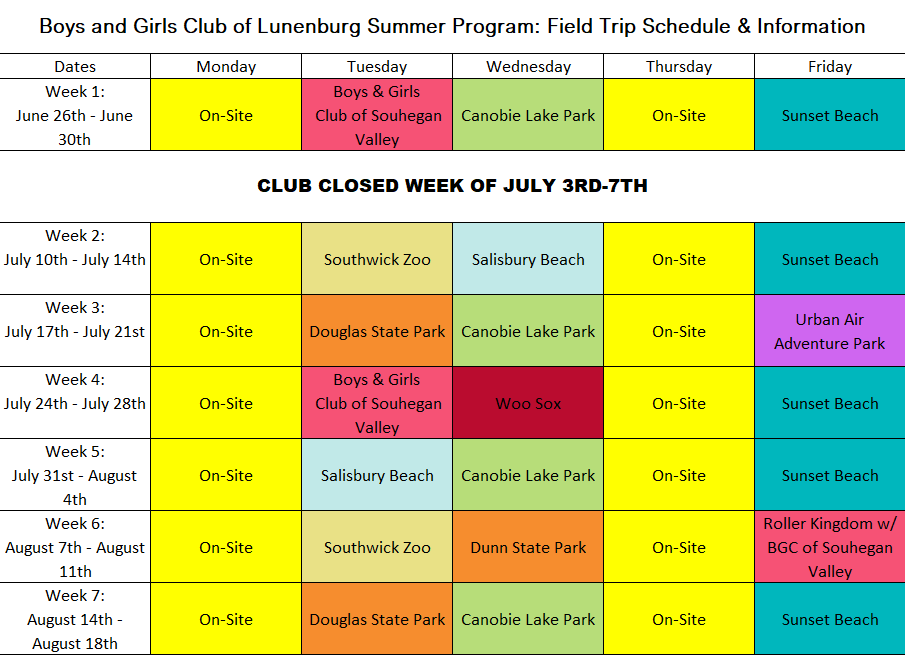 ****Note: The Club is CLOSED the week of July 4th****
If registering more than one child, you will need to complete a registration form for each child.

A minimum $175 deposit will be required to secure your child's full summer spot.
A minimum $25/week deposit will be required to secure your child's weekly spot ($25 for one week, $75 for three weeks, etc.).
NO REFUNDS WILL BE GIVEN AFTER JUNE 1ST, 2023.

Tips & Tricks for your child to have a successful, safe, comfortable, and fun summer…
The 2023 Summer Program at the Boys & Girls Club is fast approaching. The following information will detail what it takes to have a successful summer here at the BGCL!  Please be sure to read carefully!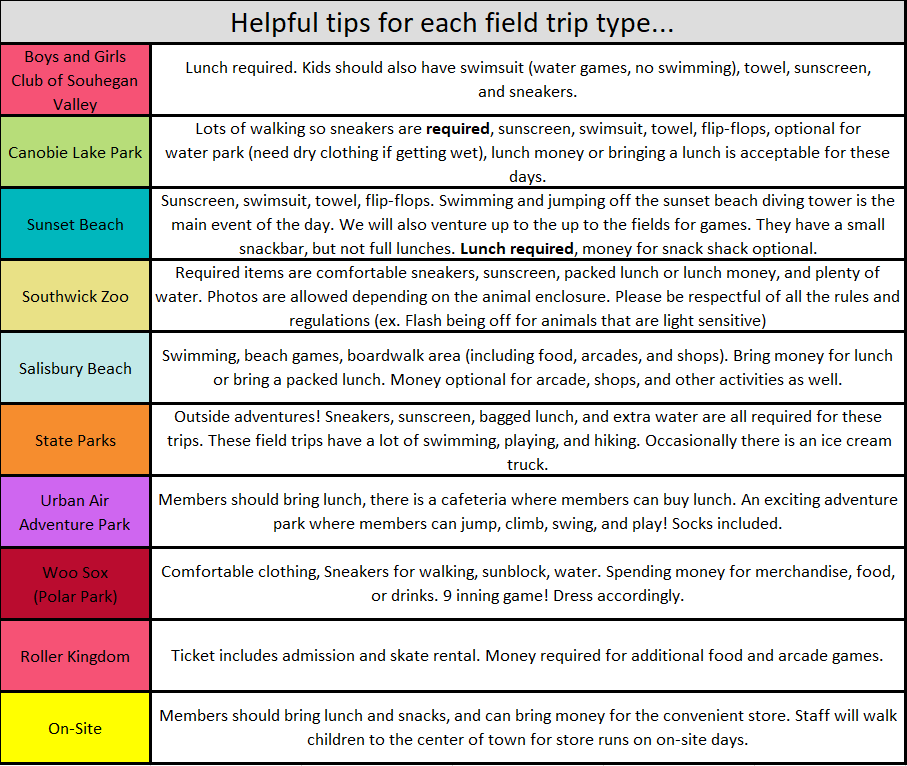 Refunds will be given as needed, but no refunds will be given after 6/1. This is non-negotiable. Refunds will not include processing fees.
The BGCL's doors open at 8:30am for drop-off and are locked at 5:30pm. No club staff will be available outside of those times. Members are permitted to wait quietly on the front porch before or after those times if needed. Members MUST be well behaved!
All belongings that members bring are the responsibility of that member and not the club.
We encourage members to leave an extra bag of essential items at the club throughout their weeks over the summer. Change of dry clothing, extra bathing suit, sunscreen, flip-flops, towel, etc.
Members MUST bring lunch for on-site days. You can also make other arrangements, but the club does not serve lunch.  
Personal electronic device use is limited, but allowed. They are welcome, but the responsibility of the device is on the member. During activities we ask phones are not used. During lunch, bus trips, free time, and other designated time will be allotted for responsible use.
Our 2023 Field Trip Schedule is displayed above. Field trips are subject to change due to weather and other unanticipated circumstances. On occasion we encounter traffic on our way home which delays our return time. In the event we change a field trip we make every effort to inform all members and families, please do not assume because the weatherman says we are getting a little rain that the field trip is cancelled.
The BCGL is not permitted to administer medication.