2019 SUMMER ADVENTURE PROGRAM
The BGCL Summer Adventure Program will run for seven weeks, starting June 24th and ending August 16th. (There is no Summer Adventure Program the week of July 1st-July 5th.) The program opens at 8am and closes at 6pm. Full summer registration is $1,000 and single weeks are $175 each. All registrations include cost of field trips and transportation. This program is open to kids entering grades 6-9, but space is limited to 55 members per week.
Rolling Registration will Open as follows:
Monday, February 25th – Full Summer Registration opens
Monday, March 11th – Registration for 4 weeks or more opens
Monday, March 25th – Registration for 3 weeks or less opens
50% deposit is required to secure your child's spot.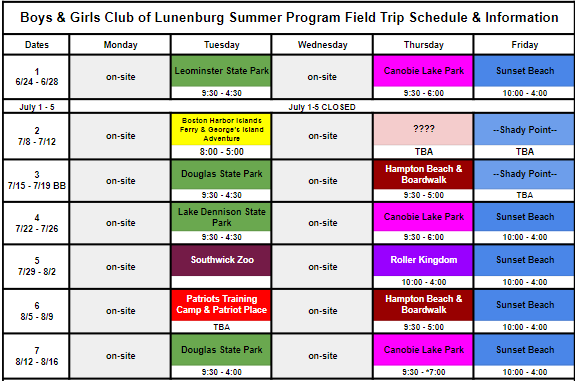 Deposit of 50% is required before a spot is considered saved.
Full payment is due 2 weeks prior to the start of your child's first week/s.
Only FULL payments are accepted online through PayPal, if you would like to pay a 50% deposit or
need to make any payment arrangements, please contact Michelle or Brent at the Club.
*Sliding fee scale is not available for the Summer Program
To register your child for the 2019 Summer Adventure Program, please click here.
If registering more than one child. you will need to complete a registration form for each child please. You will also need to make a payment when registering your child(ren). Full payment can be made using the button below, or 50% deposit can be made using the "Donate" button on the homepage of our website, or by cash or check (payable to BGCL) in the Club.
Registration for 4 or more weeks begins Monday, March 11th sign-ups for individual weeks (1 or more) start Monday, March 25th. Thank you for your patience with this process.