2019 SUMMER ADVENTURE PROGRAM
The BGCL Summer Adventure Program is currently full for the 2019 summer season! To be added to the wait-list please email Brent DeBraga at the email here – (email Brent at program@bgcluboflunenburg.org to be added to wait-list).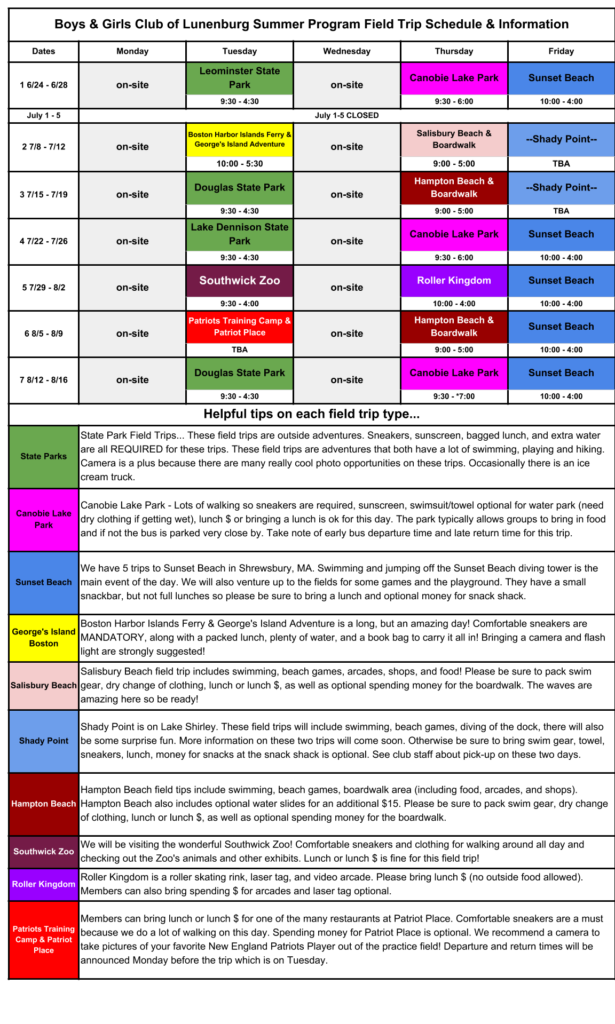 Deposit of 50% is required before a spot is considered saved.
Full payment is due 2 weeks prior to the start of your child's first week/s.
Only FULL payments are accepted online through PayPal, if you would like to pay a 50% deposit or
need to make any payment arrangements, please contact Michelle or Brent at the Club.
*Sliding fee scale is not available for the Summer Program
To register your child for the 2019 Summer Adventure Program, please click here.
If registering more than one child. you will need to complete a registration form for each child please. You will also need to make a payment when registering your child(ren). Full payment can be made using the button below, or 50% deposit can be made using the "Donate" button on the homepage of our website, or by cash or check (payable to BGCL) in the Club.
Tips & Tricks for your child to have a successful, safe, comfortable, and fun summer…
The 2019 Summer Adventure Program at the Boys & Girls Club is fast approaching. The following information will detail what it takes to have a successful summer here at the BGCL! Please be sure to read carefully!
The BGCL's doors open at 8:00am for drop-off and are locked at 6:00pm. No club staff will be available outside of those times. Members are permitted to wait quietly on the front porch before or after those times if needed. Members MUST be well behaved!
All belongings that members bring are the responsibility of that member and not the club.
We encourage members to leave an extra bag of essential items at the club throughout their weeks over the summer. Change of dry clothing, extra bathing suit, sunscreen, flip-flops, etc.
Lunch for on-site days can either be bagged or purchased from Bad Larrys (across the street). You can also make other arrangements, but the club does not serve lunch.
Personal electronic device use is limited, but allowed. They are welcome, but the responsibility of the device is on the member. During activities we ask phones are not used. During lunch, bus trips, free time, and other designated time will be alloted for responsible use.
Our 2019 Field Trip Schedule is also attached to this email. It is extremely detailed with departure times, expected return times, and a small description of how to make your day great for each field trip including what you should bring. Field trips are subject to change due to weather and other unanticipated circumstances. On occasion we encounter traffic on our way home which delays our return time. In the event we change a field trip we make every effort to inform all members and families, please do not assume because the weatherman says we are getting a little rain that the field trip is cancelled. To get the most up to the minute updates on any Summer Adventure Program news please see the attached info on this email with instructions to sign-up for Remind notifications.
Typical field trip day – Arrive at the club in the morning at least 20 minutes before departure time listed on the field trip schedule, although you are allowed to arrive when we open at 8:00am. Every field trip we require you to wear a BGCL T-Shirt which is colored in hi-res to easily keep track of all members. In the morning depending on departure time there may be some more relaxed activities and then we get ready for our exciting trip day. Attendance is taken as members arrive at the club and we also do a double check of our attendance before leaving, go over expectations and other info for the field trip have members take care of last minute prep and board the bus. Like all times at the club members are supervised by club staff on the bus. We do headcounts VERY often. Before departing our field trip location we conduct attendance again to confirm we have everyone! Before arriving back at the club we send a Remind notification to all families letting them know our expected return time. When we arrive back at the club some members have rides waiting and others stay for an activity at the club as late as 6pm. Each member will be given 1 free BGCL Field Trip t-shirt each summer. Extra t-shirts can be purchased for $10. A BGCL t-shirt is required to be worn for every field trip!
Typical On-Site Day (typically Monday & Wednesday) – Members are permitted to arrive at the club any time during the day and leave with parent permission at any time as well. When they arrive their attendance will be recorded. We do conduct our morning meeting to go over the day and do a formal attendance at 9:15am. Our on-site day activities are planned and organized by our amazing program staff. Each 1 hour or 1.5 hour block is action packed full of fun things like art, dancing, signing, sports, water games, going for walks, playground, visits to Lunenburg Public Library, visits to other local Lunenburg parks within walking distance, musical instrument jam sessions, video production, guests, game shows, talent shows, and much more!
The Boys & Girls Club of Lunenburg is not permitted to administer medication.